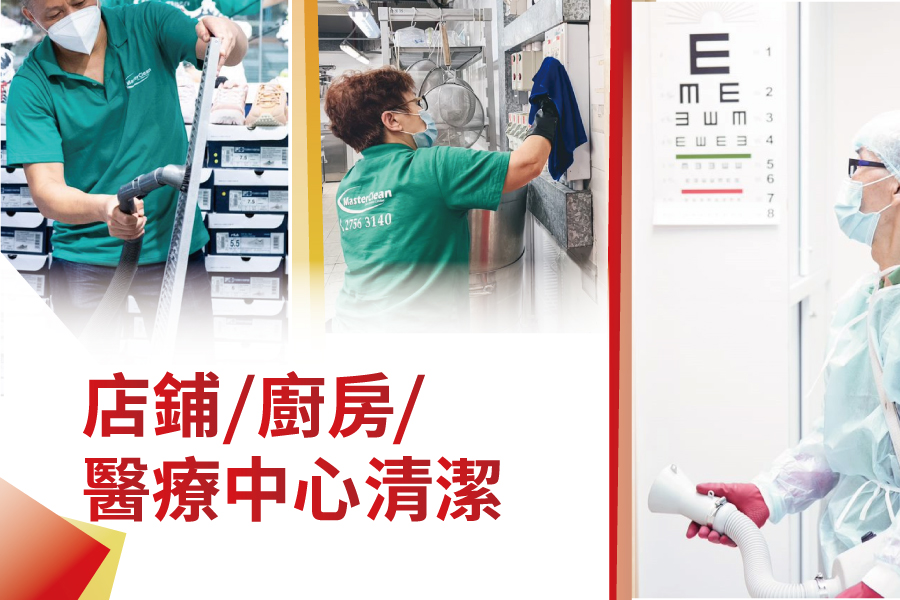 Retail/ Kitchen/ Medical Center Cleaning

Despite chain or various sizes stores, the brand image will be delivered to the customers by the facade of a store directly in the beginning. This can be achieved by weekly cleaning or scheduled seasonal cleaning routine to keep the floor, shelving units and glasses clean and tidy in stores. Regular cleaning and disinfection services can please customers during their visits and ensure the staffs will be able to work safely in a cleaned environment. MasterClean is a team of professional cleaning workers with well-developed codes of management, providing cleaning services for glass, carpet, signboard, floorboard and kitchen. Service areas are included between general restaurants cleaning and regular deep cleaning service. To create an excellent environment in stores, quotations and instructions will be provided to clients clearly.
Four Categories Of Stores Or Kitchen Cleaning

Daily cleaning service (hourly)

The service will be provided daily or weekly upon requested time slots based on various store operations. Service areas are mainly included spaces where customers usually stay and interact. For examples, floor vacuuming, cleaning cashier, cleaning item display and shelves, to maintain a clean and tidy environment in stores.
Regular deep cleaning service

As if the stores do not have a routine cleaning schedule, the regular deep cleaning service will be great to add to make up a deficiency. The entire store would refresh via an all-rounded deeply cleaning service. Although stores have been already under a daily cleaning routine, the regular deep cleaning service can still take care and disinfect those minors and overlooked concerns for clients. To ensure customers and staff both enjoy staying in comfortable environments and maintaining good health, the services are included cleaning of the display window, air-conditioner, grease trap, signboard and floor washing.
Air-conditioning vent/ dustproof
Ceiling lamp/ spotlight surfaces
Signboard at the front door/ French window
Display window/ kitchen units/ storage racks
Fitting room/ mirror cleaning
Floor washing by machines/ stain removal/ floor polishing and waxing
Cleaning/ formaldehyde removal services after store constructions
What should be done with the dusty environment after constructions in stores?
Are decoration company usually overlooked places that needed to be cleaned without listing clear quotations for clients?
Do not worry! As the cleaning jobs after constructions will be done by MasterClean completely!
Every detail will be looked after carefully in this service, including from ceilings to floor and from furniture to glass. Apart from illuminating windows after cleaning, formaldehyde and other chemicals will also be fully removed caused from constructions. This can be done in one payment without any additional or hidden costs upon our clients' wishes. Tidiness, consumption on credit or safeness for clients will be fulfilled for sure.
Aiming to make sure our honourable clients will be having a grand and enjoyable opening.
Restaurant/ kitchen cleaning
MasterClean understands that kitchen hygiene is very important to food safety. Thus, regular kitchen cleaning should be held to show the dedication to cooking and bear the responsibilities to families and customers in food safety and hygiene.
The kitchens are always covered in stains and oil after a long period of cooking that cannot be easily removed by ourselves either at home or in restaurants. This is due to the lack of knowledge, skills and equipment. With the help of experienced professional workers from MasterClean, this can be solved easily by using a steam cleaner and certified detergents that are harmless to humans. Sufficient removal of stains and disinfecting services provided from MasterClean are always aiming to protect and respond to clients' health.