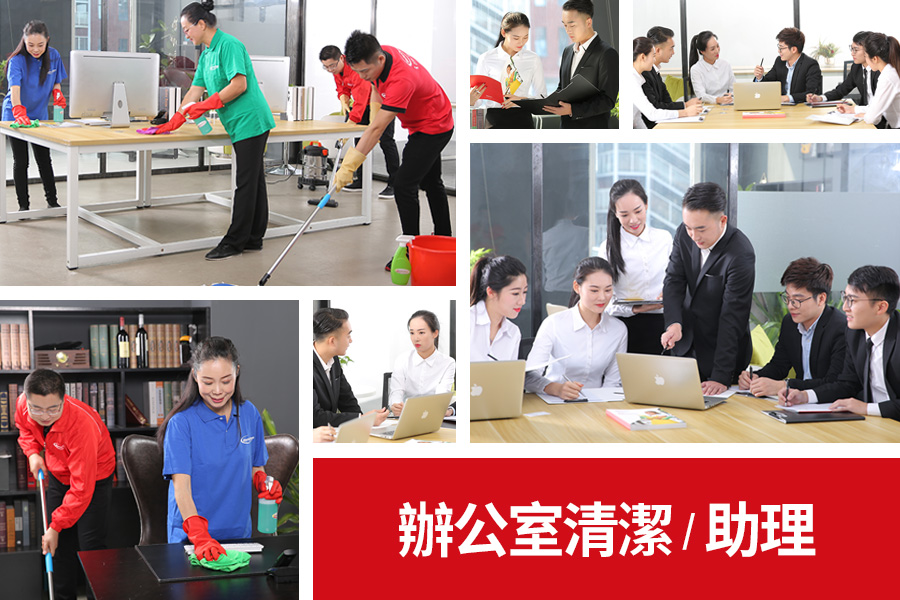 MasterClean Office Cleaning/ Office Assistant
The tidiness of that office is related to the image of the whole enterprise or the company, and even the morale of employees. So, it is very important to do a good job in office cleaning. Most employers are concerned about the high turnover rate of part-time office cleaners recruited by themselves and the difficulty in assessing the quality of service provided by full-time cleaning assistants. MasterClean provides a wide range of office cleaning services, from handling office cleaning tasks to daily office reception, as well as regular large-scale office cleaning and disinfection services. According to the cleaning requirements and working hours of different companies, the service can be adjusted through flexible contract details, which our professional training can also ensure the efficiency of cleaning.
Master Clean

MasterClean
Office Daily (Cleaning) Assistant
Form of service: Customers can choose to hire full-time, part-time, hourly cleaners

Full-time Office Cleaning Assistant:

The client hires full-time office cleaners with professional training from our company on a monthly basis. MasterClean, as a company with many years of experience in office cleaning, can do all the following: Recruitment of cleaning staff, pre-work training, holiday arrangement and provision of qualified substitutes, and provide relevant statutory labour and third-party liability insurance, periodical performance review and other one-stop services.
Full-time cleaning assistant would be in charge of vacuuming, taking care of office plants, mopping tables, emptying rubbish bin, pantry and toilet cleaning, floor mopping, office equipment cleaning and other services.
Full-time Office Administrative Assistant:
Receive and send documents, check deposit, mailing, deliver documents, purchase materials, make tea and coffee, etc.
* The specific service content can be changed according to the needs of customers
Part-time/Hourly Office Cleaner:

Customers can set their own daily cleaning service hours, which qualified and trained cleaners would be arranged by MasterClean to assist in cleaning with professional cleaning supplies. Flexible time without minimum consumption or limitation on the size of the space, the service plan is charged on an hourly basis. It allows us to customize the service for customers and greatly reduce the daily operating costs of the office. We also promise to complete the cleaning before the office hours to ensure that the daily operation of the office will not be affected.
Master Clean
MasterClean
Regular Deep Cleaning of Office Buildings

Service form: customers can require a single on-site constant office deep cleaning service according to their own needs
Regular Monthly Cleaning Service:
The office is an important place for you and me to work hard for life. Is it enough to only vacuum and do simple cleaning every day? In fact, there are many places in the workplace that are ignored and difficult to clean, such as the ceiling of the office, the air conditioner and the top of the file cabinet, which cannot be handled by daily cleaning, leading to the long-term accumulation of a large amount of dirt. They later become a breeding bed for bacteria! For an easy solution, you need to rely on professional assistance!
Masterclean Regular Monthly Office Deep Cleaning Program:

Clean and disinfect all areas of the office/workspace that are difficult to clean.
Cleaning the ceiling lampshade
Cleaning ceiling pipes
Cleaning air conditioning vents
Cleaning air conditioning dust screen
Cleaning glass doors and walls
Cleaning the top of large filing cabinets
Cleaning the company door signs
Office carpet cleaning
Sterilization of the office environment
Waxing and cleaning the pantry floor
Cleaning grease trap in pantry
Refurbishment and polishing of marble floor in the reception
1
Monthly deep cleaning, dealing with multiple items at one time
2
Targeting daily cleaning blind spot and places that are difficult to clean by daily cleaning process
3
Using professional cleaning tools and detergents to effectively remove hidden dirt
Master Clean
Service Features

4
Using environmental disinfectants that is harmless to human body, comprehensive disinfection for the office
5
Professional cleaning workers, quickly and efficiently complete the cleaning requirements
6
A price that is clear and affordable
Office Cleaning Related Items: